The staff here at Every Day is Zlatan Day are proud to present our latest project: #BrendanWeek with a daily post all this week dedicated to Liverpool's umm… eccentric manager. The man, the myth, the legend himself (just ask him). Whether it's been his run-ins with other managers or the incessant myth making he creates with every press conference, or even the Hitler like celebrations he busts out on the touchlines, every facet of Brendan is hopefully covered. We hope that you enjoy it.
It still haunts me to this day. Sometimes I have nightmares of the image, making me wake up the next morning sweating profusely.  They say in times of distress is where the true makings of a person are revealed. If we take that saying at face value, then the character of Brendan Rodgers is summed up in this vine.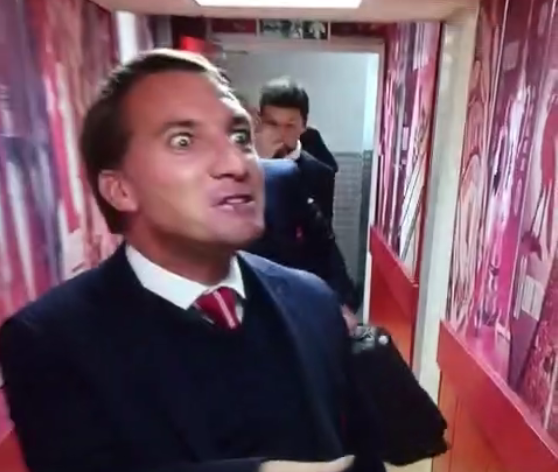 There's so many things that need answering: Why did he make that face? Was this an intimidation act? Who taught him that face? What did Carlo Ancelotti think when he saw Brendan do this? How did Carlo manage to remain cool during all of that?
If there's anything that symbolizes Brendan Rodgers' in 2014-15, it's that face. It's freaky, it has no rhyme or reason for existing yet it's something that I would think he takes pride in whenever he sees it. I wouldn't be shocked at all if Brendan practiced that face ahead of time. I mean how else could one explain someone making that face among meeting someone that they don't dislike.
2013-14 Brendan was one of charm and class. For the most part he said the right things, looked like a player's coach and fostered combustible talent into a near title winning side (we'll ignore the part that pretty much every person in that squad was shooting fireballs out of their ass). Sure he was tactically naive in the Chelsea match and presided over the most comedic choke job from a title contender since the 1995-96 Newcastle side, but he managed perhaps the most entertaining EPL side of the last decade so that counts for something.
2014-15 Brendan has been a caricature of his former self. You could even argue that this really started in the last few weeks of last season. He said that the FA Cup and the Premier League were the goals  for this season, despite Liverpool's ethos of grand European nights and buying "squad depth"over the summer for their return to the Champions League. He's alienated player after player, and will probably lose his prize possession this summer in part because he's acting as if treating 20 year olds in 2015 is the same as it was in 1995. It's almost as if he was the puppet all along and Luis Suarez was his ventriloquist.
No matter what happens in the remaining games of this season, Liverpool are stuck in a rudderless place that's not too dissimilar from where they were post Fernando Torres. Sure there's more talent on this squad compared to the Kenny Dalglish days, but the residual damage of the last half decade or so can be seen in the list of players who have rejected Liverpool. Who knows what their future lies and how long Brendan Rodgers will be there to steer the sinking ship (that he helped sank), but if I had to sum up Liverpool's 2014-15 season in two words, it would be:
The Face