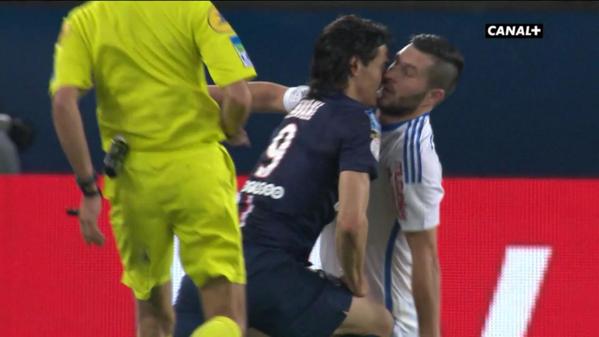 The international break is upon us, which means that there'll once again be a two week hiatus from European domestic football. Ligue 1 has gone through 13 match days so far in the 2014-15 season and Marseille's lead at the top is only by a single point. Only four points separate 1st from 4th, exciting times for French football. Le Classique was the main attraction of this weekend's fixtures and it didn't disappoint once again. Elsewhere we had another Breton Derby (well, sort of) and Willy Sagnol's first game since his controversial comments regarding African footballers.
Breton Derby…
There's really only one place to begin the roundup and it's the clash between rivals Rennes and Lorient… fine, we'll start with Le Classique. PSG win 2-0 and cut what was once a seven point Marseille lead  at the top of the table back down to one. Goals from Lucas and Edinson Cavani gave the home side victory which will be remembered for a controversial (and that's being super generous) red card on Gianelli Imbula. What the red card will overshadow however was perhaps the most unimaginative offensive performance Marseille have had in quite some time, perhaps going all the way back to their 2-0 loss to Montpellier back in August.
It was quite startling to see Marseille's attacking players play quite selfishly. Marseille have gained plaudits for their free flowing possession based football headed by Payet and Gignac, and there was little of that shown against the reigning champs. Meanwhile PSG were solid in victory, spearheaded by Lucas Moura's performance. The goal itself was mostly based on luck but the performance as a whole was his best this season. Also there's the little manner of Zlatan Ibrahimovic's returning off the bench in the 65th minute. Marseille's lead at the top is dwindling fast, and a home date with 4th place Bordeaux post international break will be no small feat. The sparkle and shine that associated with Marseille a few weeks back is all but gone, with both Lyon and PSG quickly catching up.
Sagnol-Gate
Bordeaux's matchup with Lens on Saturday marked the first match for Bordeaux since the highly controversial remarks Willy Sagnol had earlier in the week, and Bordeaux despite the cloud hanging over their heads got a 2-1 victory over Lens (it also helps to play Lens). It was a emotional game for the embattled manager, who had a moment after the second goal from Cheick Diabate: 
Bordeaux sit 4th in Ligue 1, 4 point back from league leaders Marseille. No one will ever mistaken Bordeaux for a title contender but the Europa League is a definite possibility for the club. It'd be quite something if after all of the criticism with Sagnol's comments, this is the year that Bordeaux qualify for European football.
Nantes in Europe?
Our favorite Breton club (don't worry Rennes fans, they're actually not) are still chugging along as Nantes defeat Caen 2-1 behind the young tandem of Jordan Veretout and Georges-Kévin Nkoudou. The club is now 5th in Ligue 1 going international break. That is not a typo, the club who has a transfer ban until summer 2015 is currently 5th and would be in the Europa League playoffs if this holds up. The 2-1 victory was spearheaded by one of the fastest rising talents in Ligue 1, Jordan Veretout. The creative midfielder scored another goal, four now on the season and his goal gave Nantes the eventual game winner. Nantes play Saint Etienne next and it begins a grueling stretch of games where they'll play Marseille/Toulouse/PSG/Bordeaux, a true test to see whether the fairy tale story will have a happy ending.
Other Scores:
Rennes 1-0 Lorient, Bastia 2-0 Montpellier, Evian TG 1-0 Nice, Toulouse 3-0 Metz, Lyon 3-1 Guingamp,  Reims 2-0 Lille, Saint Etienne 1-1 Monaco
Week 14 Look Ahead:
The two big fixtures for week 14 are Nantes-Saint Etienne and Marseille-Bordeaux. Nantes have been riding high, allocating points with a very favorable schedule and ranking 3rd in points in the last six games. Saint Etienne meanwhile are in the thick of things for the Europa League though they'll be kicking themselves for not getting more than a point against a 10 men Monaco side on Sunday. Marseille are trying to keep their lead atop the table against a Bordeaux side that were dangerous on the counter versus Lens and have looked revived under a newly created 3-5-2 formation. By this time two weeks from now, we may have new leaders at the top of the French first division.