One of the things a football manager definitely needs in today's game is an ability to know how to talk to the press. Many of the game's top managers know how to do this with ease, none more so than Chelsea's Jose Mourinho. (I might have a lot of nice things to say about Jose here, so I will hate myself at the end of this post.)
Jose's mastery of talking to the press has given him a lot of leeway in how he conducts business. Whereas a manager that had Jose's squad last year would get shredded for not winning anything last year, Mourinho skated along – even after selling Chelsea's best player of the last two seasons, Juan Mata – the press totally buying his lines of Chelsea being a little horse and not having any strikers. (For the record, that was Jose's own fault. He loaned out Romelu Lukaku and brought in 33/37/39 year old Samuel Etoo in his place. He opted not to go after a forward in the January transfer window despite having a few of them available – although his choice of waiting on Diego Costa is looking like a master stroke right now.)
While Mourinho is undoubtedly one of the best to ever talk to the press – his gift of gab is second in the Premier League to Louis van Gaal, and let me tell you, if Manchester United start winning, oh boy – Liverpool's Brendan Rodgers and Arsenal's Arsene Wenger are on the opposite side of the spectrum, with Rodgers especially clueless on how to talk to the press.
Brendan Rodgers is a fine coach, one of the greatest developers of talent in world football today. However, whenever Rodgers talks, you just want him to shut up. Consider that in the last month – with Liverpool losing two of three games, as well as starting striker Daniel Sturridge – Rodgers has blamed England and Roy Hodgson (which undoubtedly went really well with Liverpool fans, who don't remember Woy's Merseyside tenure quite so fondly), the fact that European competition – the same one his team was relishing – is interfering with Liverpool's training (somewhere, Allen Iverson is shaking his head), and the pressure that wearing the Liverpool shirt is placing on his players. With the possible exception of the first one, aren't those things a manager should be able to work out?
Ever since the Chelsea game – you know the one, Brendan Rodgers has absolutely bottled it as manager. Heck, I'd say it was even before that, in the post game press conference after the Norwich game, when he said something akin to the fact that he was riding the wave and seeing "how far momentum can take this side." Let me see if I understand this correctly: in the time where having a level headed manager – someone like, oh say, Jose Mourinho – matters the most, Brendan Rodgers, runaway manager of the year at that point, decided to become a fan.
The excuses, of course, were all there for Rodgers to bail himself out: he lost Jordan Henderson in the run up to the title; "Jose Mourinho parked two buses"; and, quite famously, his captain slipped.
But look at the time stamp on that glorious GIF. Gerrard slipped at the stroke of half time. Brendan Rodgers had 45 minutes to fix this mess. He could have told his players to calm down, play like they've been there before, regroup. He could have settled them down. Instead, Liverpool came out in the second half and played 45+ minutes of Hero Ball, and that, more than anything in my opinion, is why they lost the league. Their manager decided to bottle it at the worst time possible.
Brendan Rodgers, much like Icarus, flew too close to the sun and got burned.
But I digress. I'm not here to rehash Liverpool's season last year, even though those last three games did offer us some interesting tidbits about the kind of manager Rodgers is, at least when it comes to handling the media.
Since that Chelsea game, Rodgers has been offering up excuse after excuse as Liverpool have slumped out of the gate this season. He's been playing the victim for a while, which is quite the departure from the beginning  of the season when he warned Louis van Gaal about the pitfalls of the Premier League.
An expert at playing the victim is Arsenal manager Arsene Wenger, who since 2005 has blamed injuries, defectors and other teams spending way too much for his frugal taste for his lack of trophies. Arsenal finally won last year's FA Cup, ending a nine year drought. When Wenger led his team to a Community Shield victory over Manchester City in August, many signaled the birth of a new Arsenal. Sadly, that isn't the case.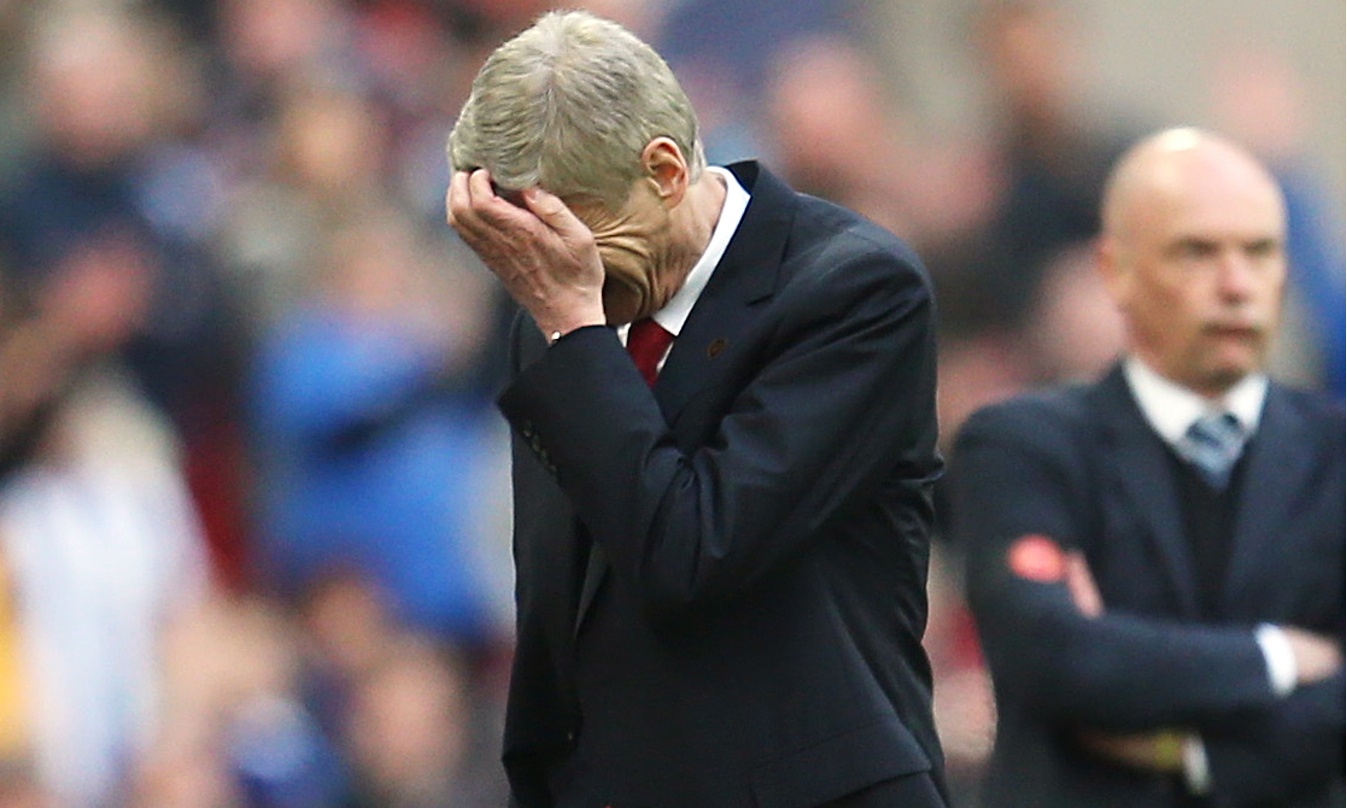 Since that Shield victory, Arsenal have been, well, Arsenal. When they're winning, they're on cloud nine, as evidenced by their 5 minute mauling of Aston Villa last week. However, when Arsenal lose, Wenger goes on the defensive, complaining to the press about injuries and boasting about his tactical acumen.
For an inexplicable three games this season, Arsene Wenger decided to field his most gifted playmaker, Mesut Özil, on the flanks. I'm assuming he has never seen Mesut play since everyone in the world knows that Özil's defensive work rate is close to zero and he's at his best drifting from the middle to the wide areas, and not the other way around.
Özil was exposed in those games, with Dortmund especially tormenting the Gunners in their midweek Champions League clash. Arsene persisted until the aforementioned Aston Villa game, when Mesut was played back in his #10 role and both scored and assisted a goal. All good, right? Not if you're Arsene Wenger.
Arsene Wenger again went on the defensive in the post game press conference, claiming that his team boasts many players that can play the role that Mesut plays. Which begs the question of "WHY THE HELL DID YOU BUY THEM THEN?"
Unlike many managers, Arsene doesn't operate under a director of football (although he really needs one). Everything Arsenal do is Arsene Wenger's call, from the collecting of attacking midfielders to the complete negligence of the defensive midfielder position. He doesn't have to answer to Franco Baldini and Daniel Levy, as Tottenham managers from Andre Villas Boas to Mauricio Pochettino have had to. He doesn't have an over involved owner like Florentino Perez playing real life Football Manager, buying superstars in the hopes of creating a #brand, team cohesion be damned, like Carlo Ancelotti does. (For the record, neither does Brendan Rodgers.) And yet, Arsene Wenger's – and Brendan Rodgers's – complaints about things that they were complicit in are in the papers every day.
I know a lot of managers make excuses and berate the refs and such, but Brendan and Arsene complain about things they have no control over. It's genuine complaining, another way of saying "woe is me". Meanwhile, someone like Jose complains about things he can control.
When Brendan complains about the weight of the jersey – which no doubt is meant to convey that Liverpool is a big club – he's being counter productive. The weight of the jersey might not have even been an issue for a lot of players, but Brendan saying it magnifies it and makes it so. Moreover, when Brendan Rodgers complains about the Liverpool shirt being a burden on his new signings, maybe he should have signed players who won't be deterred by the "weight of the jersey".
Likewise, when Arsene Wenger "boasts" about having too many #10s, maybe he shouldn't buy so many, instead spending some of his money – which isn't the easiest thing for him to do, mind you – on defenders and defensive midfielders.
Or maybe, just maybe, they should just shut up.