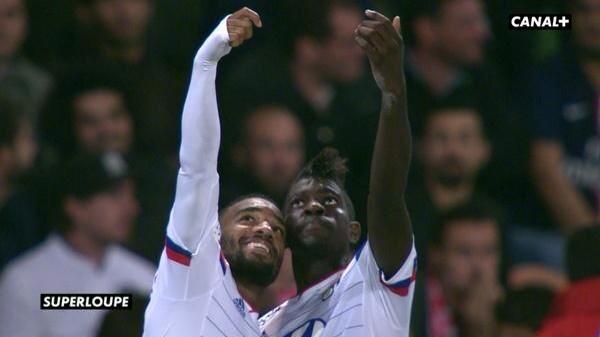 It's been no secret that the two sides involve in this match have had disappointing starts to the French domestic season. PSG as it stands right now are sitting out of a European spot (I know, only six games in, but still) and Lyon have been at times like a house of horrors. While Monaco have been grabbing the headlines for their own capitulations on the field and their financial situations, two of the biggest clubs in French football have had multiple head scratching results, whether it's the result of stale tactics (Read: PSG) or an injury list that even Arsenal would look at with empathy (Read: Lyon).
What this gave way to was an interesting tactical matchup between two coaches desperate in reviving their club seasons. You know what you get with PSG, a 4-3-3 featuring Edinson Cavani having to be sandwiched in as a winger and one of Lavezzi/Lucas playing on the opposite flank. There was a change though, with Serge Aurier taking the starting spot at RB.
Meanwhile Lyon countered PSG's 4-3-3 with their 4-1-2-1-2, with Malbranque taking the spot just behind the front two of Nabil Fekir and Alexander Lacazette. With the injury to Henri Bedimo (who came on later on as a substitute), Corentin Tolisso had to make due as a makeshift LB in Hurbert Fournier's backline:
The end result was a 1-1 draw that left PSG fans at the Parc de Princes disappointed, with a chorus of boos in the stadium afterwards:
Highs and Lows of Lyon's 4-1-2-1-2:
With the amount of injuries that Lyon has faced this season, they've played the majority of the season in a 4-1-2-1-2, with Malbranque playing as the CAM. One of the things you first noticed with the 2 up top in Fekir and Lacazette would be the number of times that the two switched wings. Lacazette in particular was devastating in flashes, with the dribbling prowess and ability to fight off a tackle. It isn't too surprising to hear that entering today's match, he was averaging 3.6 dribbles per 90 according to Opta data.
Fekir for his part was very accommodating, often playing rather deep for a forward around the edge of the attacking third area. Lyon conceeded possession quite a bit, often instead looking for quick outlets for counter attacks, using Lacazette and Fekir as outlets. It was a smart strategy, in part because PSG had two attacking full backs in Digne and Aurier.
The counter to Lyon's 4-1-2-1-2 was how quickly the shape formed a 4-3-3. I don't want to get into a "well Lyon should've done this, Lyon could've done this" because formations can only take you so far as a club if you don't have the able bodies to try something else. Lyon are a club who in comparison to PSG have much less depth at their disposal, especially when at one point this season, a good majority of the starting XI was (and to some extent still is) injured.
Lyon played a 4-3-3 when not having possession and PSG had their way with Lyon in the first half. Digne bombed forward on the left hand side, almost creating a 3-4-3 formation in attack, a smart counter for PSG with how narrow the midfield three played for Lyon:
What was also curious when watching Lyon was how Malbranque acted defensively in comparison to N'Jie. Though the shape of the 4-3-3 didn't change much for Lyon, it was a bit more aggressive for Lyon as Gourcouff played in Malbranque's spot lending way to better transitioning from defense
PSG's and the 4-3-3 dilemma:
There's been numerous people calling for a substantial change to Laurent blanc's 4-3-3 formation, highlighted by PSG's wayward performances domestically this season (for gods sakes they drew against Evian this season. EVIAN!!!). One of the problems with PSG is there's not really another formation that Laurent Blanc can go to, something Michael Cox touched on in his ESPN FC post concerning PSG:
Nevertheless, PSG should be more pleasing on the eye, and they suffer from a problem Chelsea encountered during Mourinho's first spell — they don't have a proper, playmaking attacking midfielder. Just as Frank Lampard was always about strength, energy and goalscoring rather than precise through-balls, PSG's most advanced midfielder is Blaise Matuidi, a box-to-box player who gets up and down the pitch, depending on his energy to make boundless runs into the final third.
Even though PSG looked like a 3-4-3 going forward, the shape defensively did resemble a 4-3-3. Without a formation that includes a #10 (like Javier Pastore), nights like this have become the norm for PSG. Lavezzi had his moments, including a wonderful turn on Bakary Kone in the beginning of the second half. Not much happened after that though, and Lyon were dangerous on the counter with the addition of N'Jie, turning Lyon's 4-1-2-1-2 into a 4-3-3.
The issue with PSG comes down more than anything to a philosophical argument. It's been clear for the longest time that PSG is and will continue to be the standard bearer for Ligue 1, and does a club like that with the assortment of talent they have in their disposal have to play beautiful football? The results on the whole in the last two seasons has been great, with back to back Ligue 1 titles and respectable showings in the Champions League.
But that shouldn't be enough for PSG, who have visions of being more than what they already are. Sitting on one goal leads and playing keep away isn't conducive for the aspirations that they have, playing some semblance of attacking football is. Now the issues wouldn't be so heightened if Monaco really were the challenger to their throne, but with their situation, that won't be the case for the foreseeable future. None of Lyon/Marseille/Lille/Bordeaux have the depth in talent to challenge PSG over a whole domestic season (or even by February), so there's no incentive to play more free flowing football when the job can be done otherwise.
The weird thing about this whole thing is PSG could seemingly be one of the rare teams in Europe who could work in a 4-3-3 with a #10 instead of three midfielders that either range as box to box midfielders (See: Matuidi) or deep lying (See: Motta/Cabaye/Verratti). That wouldn't ail all the problems (Like Lucas learning how to pass the ball), but it would lend itself much more to making a team with superstar talent form more cohesively in the final third and up the fear factor on counter attacks. Could you imagine if someone like Mathieu Valbuena was working a counter attack and had Lucas to his right and Cavani to his left? It's staggering to even think about. It wouldn't work all the time in the CL, but it'd create the type of excitement that a team that employs the likes of Zlatan Ibrahimovic deserves.
Alas that won't happen, and PSG will continue to trot out a 4-3-3 that will look awkward, be boring at times with their penchant for playing keep away when leading, and will ultimately not matter because it'll get them through Ligue 1 with relative ease. The one counter to all of this is Javier Pastore, who is a natural #10 but has been pigeonholed as a midfielder in Blanc's 4-3-3. A 4-3-1-2 in theory could work with Cavani getting to play more centrally and PSG's full backs allowing for width on the flanks. But that would relegate Lavezzi/Lucas to the bench.
Lyon exposed the flaws that have been percolating with PSG, and got a favorable result with a 1-1 draw. In a tale of dueling 4-3-3's, one of them left us with more questions than answers, something that Laurent Blanc will have a hard time in fixing.